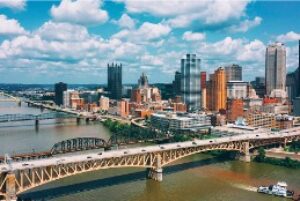 ---
Pittsburg, PA, is a historic city at the junction of three rivers with ample things to do, delicious restaurants, bars, and picturesque architecture and nature. Historic buildings line the shores and are filled with quaint shops, local eateries, and lively bars. The vibrant city has a lot to offer visitors, check out the following recommendations when visiting Pittsburgh, PA.
Where To Stay
Pittsburg has ample excellent, reasonably priced hotels. The downtown business district is walkable and filled with historic architecture, popular bars, and restaurants nearby.
The Cork Factory. Beautiful historic architecture with a great location, right on the river.
The Kimpton Hotel. An elegant boutique hotel in the heart of downtown.
The Industrialist Hotel. Thoughtfully designed hotel in a historic building.
Where To Eat
Pittsburg has a diverse food scene with something for everyone. The Strip district, adjacent to the downtown business district, is a bustling hub for excellent restaurants.
Kaya. Eclectic Caribbean restaurant with an aesthetic dining room and top-rated jerk chicken.
Pizzeria Davide. Causal pizzeria with incredible pizza and gluten-free and dairy-free options.
DiAnoia's Eatery. Quaint Italian restaurant with homemade pasta and perfect classic cocktails.
Bakersfield. Upbeat, modern Mexican eatery with fresh corn tortillas and fresh margaritas.  
Gaucho Parilla Argentina. Home to incredible steaks, this restaurant is a favorite among locals, but be sure to make a reservation as this place is popular.
Where To Drink
The city is lined with lively bars, distilleries, and breweries, both upscale and casual. There are vast choices for nightlife and casual drinking spots along The Strip, South Side, and Downtown.
Bar Marco. An intimate wine and cocktail bar with a fresh food menu and vintage atmosphere. 
Wigle Whiskey Distillery. A fun and lively attraction with distillery tours, delicious burgers, and dynamic whiskey cocktails.
The Warren Bar & Burrow. Craft cocktail bar with classic bites and frequent live music.
Where To Shop
Love, Pittsburg. A cute gift shop with local and homemade items.
Vestis. Upscale menswear clothing and accessories with high-quality goods.
Mello and Sons. A classic vintage clothing store with many quality denim and leather items.
Things To Do
Pittsburg has diverse attractions, including museums, outdoor parks and sightseeing, historic architecture, and live events. The Carnegie Museum of Natural History and The Carnegie Museum of Art are popular and excellent for cold or rainy days. To enjoy nice weather, check out The Phipps Conservatory and Botanical Gardens. The city has a lively sports scene with the Steelers NFL team, the Pittsburgh Penguins ice hockey team, and the Pittsburgh Pirates major league baseball team attracting millions of fans to the city's live sporting events.