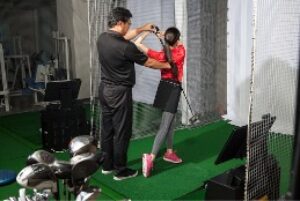 ---
As the weather starts to turn after the winter months, the anticipation of golf season begins. If you were cooped up this winter, you may feel a little stiff and out of practice. If you step on the course without any preparation, you will likely feel rusty, not play your best, and risk injury. To prepare for the coming golf season in Pennsylvania, check out this excellent way to get in some quality practice swings indoors. Whether you are an expert or a novice, an indoor golf facility is a perfect way to practice and warm up for the upcoming season in a fun and comfortable environment.
OnPar Now Indoor Golf
OnPar Now in Pittsburgh is an indoor golf facility with golf course simulations and putting greens. It is an inclusive place for players of all levels and ages to learn, practice, and enjoy. OnPar Now is located in The Strip District near downtown Pittsburgh. The facility houses state-of-the-art Trackman golf simulator bays perfect for practicing real golf courses or playing games with friends. OnPar Now has something for everyone and is an entertaining way to sharpen your golf skills year-round.
How It Works
OnPar Now prides itself on being a comfortable and inclusive place to learn and practice golf, and hang out with friends. New and novice players are welcome, so proper golf attire is not required, just come in whatever clothes and shoes are comfortable for you to play in. OnPar Now has clubs available, but players with their own clubs are encouraged to bring them. If you are a frequent golfer, it is helpful to practice with your own set of clubs. To ensure you don't go thirsty, bring your own beverages, but be aware there is a $10 corkage fee per group.
Classes
For golfing beginners, OnPar Now offers beginner basics classes for all ages and includes everything you need to know to get started, such as terminology, etiquette, gameplay, and basic technique. Classes are designed to make new golfers feel comfortable playing on a real course with friends and colleagues.
Golf Courses
The OnPar Now Trackman simulator bays have 92 golf courses from around the world to choose from. You and your friends can experience PGA courses and courses in exciting destinations while warming up for the start of the season. Decide to play a serious 18 holes or choose from casual games on the simulator.
Putting
No golf practice session is complete without practicing your short game. The facility has two putting greens, one of which uses PuttView technology to control the green to the design of your choosing. That means completely customizable putting practice.
Rentals
For large groups and events, OnPar Now also offers full space rentals year-round. Great for a golf lover's birthday party, work events, and networking meetings.